Your personal fishing diary with many extra functions. Track your fishing and catches, evaluate these, to catch more fish in the future. The app doesn't require any accounts or registrations and has a offline mode.
Features
The goal the fishing diary is to help you to become a better fishermen and getting the most out of the rare hours we're able to spend on our hobby. Therefor it's not enough to track only catches and the days when you caught a fish. You should track every single fishing. Even those days where you caught anything, because only by tracking all fishing, you can find out what will work best under any conditions. Now, an overview about some of the features of the fishing diary.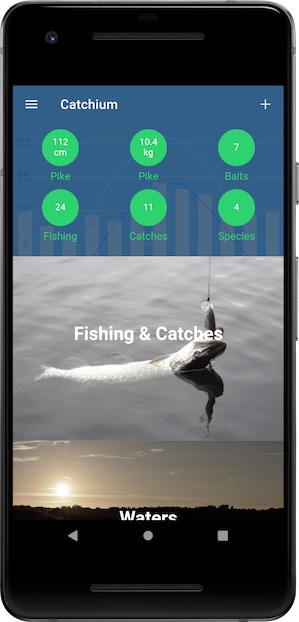 Free.
Requires no account nor a registration.
Is working offline.
Manage fishing with tracking of waters, target fish, used baits, fish activity, weather and water conditions, photos of the fishing, fishing date and time. …
Manage catches with tracking of species, fish length, fish weight, catch time, bait, catch photos, …..
Statistics of your fishing and catches, so that you can find out what is working when and what isn't working.
Manage your favorite fishing waters.
Built in list of popular fish species which you can extend if fish species are missing.
Built in list of common baits. As for the list of the fish species you add your favorite baits if they are not listed.
Backup four fishing data by using the export and import features.
Sounds interesting? Simply download the latest version of the app from the App Store or the Play Store.